This project has received funding from the European Union's Horizon 2020 Research and Innovation Programme under Grant Agreement no 634588.
Related to the topic: "BG-3-2014: Novel marine biomolecules and industrial biomaterials"
Duration: 48 months (2016-2019)
Partners
UC: Universidade de Coimbra (Portugal)
UPMC: Université Pierre et Marie Curie-Paris (France)
CIIMAR: Centro Interdisciplinar de Investigação Marinha e Ambiental (Portugal)
UNIOVI: Universidad de Oviedo (Spain)
IS Global: Instituto de Salud Global de Barcelona (Spain)
UAL: Universidad de Almería (Spain)
KI: Karolinska Institutet (Sweden)
TCD: Trinity College Dublin (Ireland)
UNIFI: Universita degli Studi di Firenze (Italy)
KG: KtedoGen SRL (Italy)
F&M: Fotosintetica & Microbiologica Srl (Italy)
UCPH: Kobenhavns Universitet (Denmark)
PG: PyroGenesis SA (Greece)
MBA: MBA INCORPORADO, S.L. (Spain)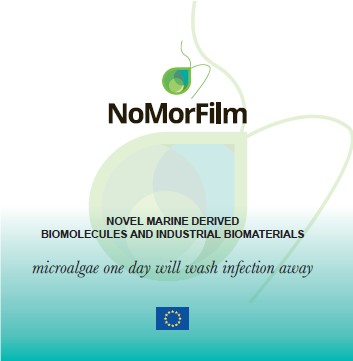 Summary
In the last decades, an increasing number of antibiotic resistant bacterial pathogens, among which, biofilm-associated pathogens, have become an important problem worldwide. It is estimated that, more than 60 % of the human infections are caused by microorganisms able to form biofilms and therefore, avoid the antibiotic and immune system actions. As a result, release of the implant is occurred and subsequent costly implant removal and replacement is promoted. These surgical interventions entail an increase in antibiotic consumption, together with a health cost of about 50.000 – 90.000 € per infection episode. 
To counteract the detrimental effects of biofilm infections onto the implanted prosthetic devices the EU "NOMORFILM: Novel marine biomolecules against biofilm" project is focused in the search of new marine biomolecules from microalgae presenting antimicrobial and antibiofilm activities. These bioactive compounds will then be incorporated into biomaterials used in manufacturing of prosthetic implants, avoiding the replacement of these devices in patients affected by biofilm associated infections.  
For more information regarding the NOMORFILM project, please visit: http://www.nomorfilm.eu/